TAP offers a wide range of industry support, technical expertise, and pathways to innovation and commercialization for our partners. Key among these offerings is development support, prototyping, and production, amongst other services to help innovative companies reach their potential. Learn more below!
The TAP model is a collaborative model of pre-competitive research and development, supported by with custom facilities and expertise. This creative model is sought by large industrial partners, governmental technology leaders, and smaller startups to best leverage their investments for technology success. 
When entering into collaboration with TAP, a partner will find unmatched technology and process expertise, paired with world class facilities and support systems, allowing for an efficient and commercially-viable development path.
Prototyping is vital to successful product development and commercialization. The Test, Assembly and Packaging team is structured to work seamlessly with you, our partners, and our colleagues to provide prototypes to facilitate the commercialization process.
The end result is an efficient and effective prototyping approach to what can be an expensive and challenging process. TAP helps transform R&D discoveries into commercial successes.
When seeking a production partner in advanced integrated photonics, companies find TAP to be an effective and dynamic resource in enabling cost effective transition from prototyping to production. TAP's facilities and expertise present a strategic advantage to corporate, institutional and government partners.
Customers and partners have access to NY CREATES' state of the art 300mm facilities on a variety of partial or custom runs or seek out the guidance of NY CREATES' industry-leading design, production, or packaging experts. Whether seeking value-added consultative support or access to test and packaging facilities, NY CREATES offers the advanced solutions customers require.
Design Enablement – To drive an efficient design process, NY CREATES has established an integrated photonic Process Design Kit (PDK), and Multi Project Wafers (MPW) runs , which provide designers cost-effective and quick turn "Design to Fab" solutions utilizing NY CREATES industry-leading foundry partners This approach – in addition to unique collaboration with software vendors and design companies including Synopsys, Cadence, PhoeniX, Lumerical, Mentor Graphics, Luceda, Analog Photonics, Spark Photonics, and other industry partners – allows NY CREATES' partners a unique and flexible design enablement process. Request more information here.
Test, Assembly and Packaging – The premier service of the Rochester TAP facility offers NY CREATES partners access to a 300mm state-of-the-art advanced ecosystem for integrated photonics test, assembly, and packaging. Request more information here. From metallization to bumping, dicing to die mounting, wire bonding to optical fiber attach, SMT to custom packages the TAP facility is positioned to support all of your integrated photonic and microelectronic packaging requirements.
Service List
Full service, one-stop testing and packaging leaves the coordination of complex, multi process work to us. Current services include:
Development and production process capabilities
o Wafer scale
o Chip scale
o I/O attach and
• State-of-the-art Test and Metrology capabilities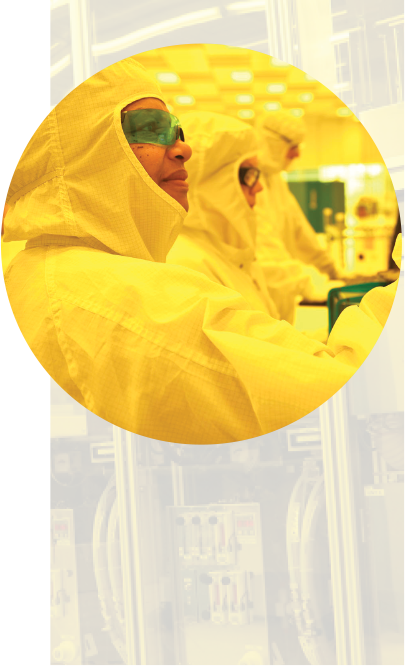 Comprehensive and unique resources
TAP is a unique facility, providing a wide array of industry support, technical expertise, and pathways to innovation and commercialization to our partners.  Whether you need support in Development, Prototyping, Production, or other Related Services, TAP can provide service your strategic needs. 
TAP is about serving the needs of our partners today, while anticipating what they could need tomorrow.  To that end, our team is constantly working with leading research and development experts to expand our capabilities in a variety of areas.  In the future, TAP will be expanding services, products, and equipment to better serve our partners. 
TAP is unique, so you may have questions about our team, about our facilities, about our equipment, about our capabilities, or about our location.  You're not alone!  Check out these frequently asked questions.