DRIVING TECHNOLOGY TO MARKET.
NY CREATES continues the far-reaching efforts of nurturing advanced technology development in New York State with a clear connection to economic development that benefits New York over both the short and long term.
NY CREATES works collaboratively with Empire State Development and NY Loves Nanotech to expand the Advanced Electronics cluster in NYS. Examples of this partnership at work include Global Foundries in Malta, NY where 3,500 plus jobs have been created and more than $12B in capital investment has landed and the soon to be built power electronics SiC fab in Marcy NY.  
One example is Neutral Physics Corporation (NPC), a start-up company based in New York, has leveraged NY CREATES' Albany site to develop its novel technology for surface modification and high aspect ratio processing of semiconductor structures. NPC has been able to achieve benchmark levels of within-wafer and wafer-to-wafer uniformity, as well as "in-film" defectivity since it established its alpha-tool in the 300mm wafer fab in Albany a couple of years ago. 
The G450C was formed at Albany by the leading IC fabrication companies to investigate the challenges in developing a complete suite of tools for processing 450mm silicon wafers. This consortium succeeded in demonstrating that 450mm tools were capable of achieving the demanding within-wafer uniformity and edge exclusion requirements for the IC industry. The tools were then removed, and the facility now houses other NY CREATES projects. International SEMATECH transitioned to Albany starting in 2003 to take advantage of the growing investment in the 300 mm CMOS wafer fabrication facility by NY state, IBM Corporation and Tokyo Electron Ltd, among others. In the first few decades of the 21st century, multiple engagements have begun in New York, with planned investments over the next several years of over $1B. These partnerships, which leverage both NY CREATES' technical expertise and advanced technology assets across New York state, include the Test-Assembly-Packaging (TAP) facility at Rochester, IBM AI Hardware Research Center, Applied Materials' Materials Engineering Technology Accelerator (META) Center, Danfoss' power electronics packaging facility in Marcy, and Cree's plans to bring up the world's only 200 mm SiC processing facility at Marcy.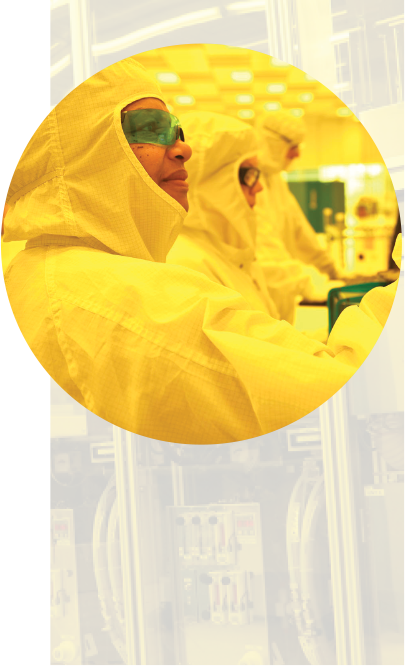 Review upcoming topics and learn about
speakers featured in our Emergent Technologies Seminar Series. 
Learn about the latest technologies with presentations and papers co-authored by members of the NY CREATES team. 
Start your NY CREATES dialogue with a few words about your technology and collaborative interests using the link below.