NY CREATES, ALONG WITH ITS PARTNERS, WORKS TO ADDRESS WORKFORCE DEVELOPMENT NEEDS AT MANY LEVELS.
The innovation economy needs a workforce that is familiar with the many aspects of existing technology but also nimble enough to adapt to the shifts in emphasis that are common in emerging technology arenas. NY CREATES, along with its partners, works to address workforce development needs at many levels.
NY CREATES and SUNY Poly are working with partners to create a 6-hour seminar series targeting a 'quantum primer,' designed for industry personnel to get caught up on Quantum Information Science basics, information on various qubit modalities, and business-oriented information on market sectors for future Quantum Technologies. Since 2018, leading researchers in quantum information science and technology have been invited to Albany to give lectures on their research – this will be expanded
in 2020 to cover the range of emergent technologies.
NY CREATES staff are actively engaged in mentoring entrepreneurs through the start-up experience, as part of ongoing efforts like IgniteU, and the NSF I-Corps program.
With NY CREATES partner SUNY Polytechnic Institute, programs have been organized each year to excite the imagination of local K-12 students through organized tours of state-of-the-art fab and characterization facilities at the Albany campus, and in hands-on activities designed to increase familiarity with nanoscale science and technology concepts, including IC fabrication.
A key joint NY CREATES and SUNY program, the Northeast Advanced Technological Education Center (NEATEC) is an organization that won a $6M NSF award in 2019 (in addition to another large award in 2017) to develop workforce training programs. It is a Regional Center for Semiconductor and Nanotechnology Education funded by the National Science Foundation (NSF DUE #1003574) to serve as a critical, sustainable resource to build and maintain a skilled technical workforce for the semiconductor and nanotechnology industries throughout New York and Western New England. 
Through an extensive network of community college, university, and industry partners, NEATEC identifies the essential technician competencies and skills required for such a workforce. NEATEC will develop curricular components and delivery methods to impart those skills to students. NEATEC will also create and disseminate educational materials to support curricula implementation at its community college and high school partners to provide professional development activities for K-12 schools and community college faculty. 
Additionally, through partner internships, co-ops, shadowing opportunities, and outreach activities, NEATEC will educate current and future students regarding technological career pathways to expand the pipeline of K-12 students interested in semiconductor and nanotechnology career options.
Vet S.T.E.P. (Semiconductor Training and Experience Program)
The Department of the Army has approved the Veteran Semiconductor Training and Experience Program, or VET S.T.E.P., as an official Career Skills Program which is part of the Department of Defense SkillBridge network. These programs assist service members, from all branches nationwide, as they transition out of the military and into civilian careers by providing industry-specific training, internships and other work experience.
VET S.T.E.P.'s outreach to military installations will serve to educate service members about the employment opportunities available, demonstrate the transferability of military training and discipline to the microelectronics manufacturing field, and provide them with industry-specific onboarding to give participants the skills they need to land the job.
To learn more about VET S.T.E.P., please contact Kate Alcott at alcottk@sunypoly.edu or visit https://ny-creates.org/vetstep
Discover a program that trains veterans for jobs in the semiconductor industry.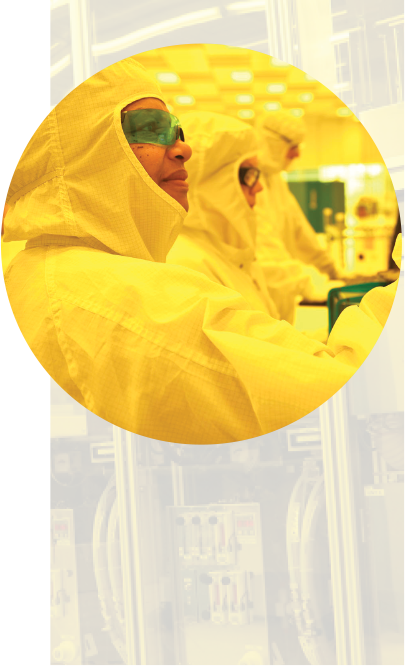 Review upcoming topics and learn about
speakers featured in our Emergent Technologies Seminar Series. 
Learn about the latest technologies with presentations and papers co-authored by members of the NY CREATES team. 
Start your NY CREATES dialogue with a few words about your technology and collaborative interests using the link below.