ALBANY HEADQUARTERS IN THE HEART OF TECH VALLEY
NY CREATES is located in the heart of New York's Tech Valley in Albany, NY.  Strategically positioned between the University at Albany and the SUNY Polytechnic Institute, NY CREATES is a five minute drive from Albany International Airport, a mere 25 minutes from the world's most advanced semiconductor foundry, GLOBALFOUNDRIES' 300mm Fab 8 in Malta and one hour from the former IBM, now On Semiconductor 300mm fab in East Fishkill.
Beyond GLOBALFOUNDRIES and On Semiconductor manufacturing facilities nearby, the Albany headquarters boasts more than 200 industry partners onsite, representing a combined market capitalization of more than $100 billion.  Within a 20 minute drive to NY CREATES, GE's Global Research Center and Regeneron's R&D center round out a region that is a historic home to innovation. There is no other collaborative R&D center for the advanced electronics industry like NY CREATES.
Since 2000, more than $22 billion has been invested by the public and private sector on facilities and programs at NY CREATES.  This has resulted in more than 1.1 million square feet of Office & Lab Space and more than 135,000 square feet of clean room space.  NY CREATES has a professional staff of more than 400 and an annual operating budget of $300 million.
The Albany headquarters of NY CREATES is within a short drive world class research universities like RPI (15 minutes), Cornell (3 hours) and RIT (3.5 hours) and the international tourist destinations of Saratoga Springs (30 minutes) and Lake George (50 minutes).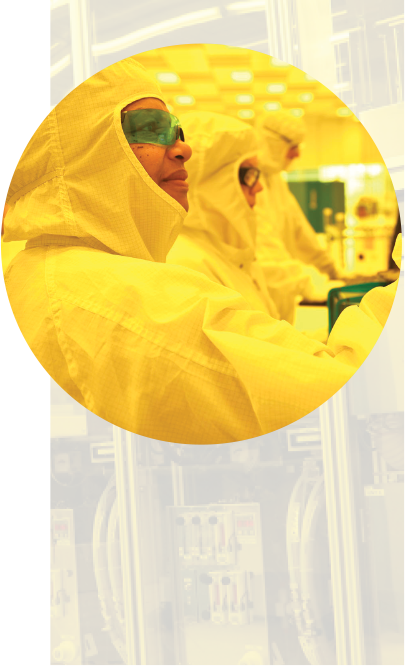 Review upcoming topics and learn about
speakers featured in our Emergent Technologies Seminar Series. 
Learn about the latest technologies with presentations and papers co-authored by members of the NY CREATES team. 
Start your NY CREATES dialogue with a few words about your technology and collaborative interests using the link below.